Chip tuning with the world's smallest tuning box!
It's this easy!
Unplug the
connector from the
pressure sensor.
Insert the micro chip tuning
box into the pressure
sensor.
Insert the connector
into the micro chip tuning
box.
As seen in the press:





Chip tuning

from the market leader
World's smallest chip tuning box!
World's fastest installation!
Programmed for specific vehicles!
No configuration necessary!
The world's smallest tuning box
The world's smallest chip tuning box with engine warranty
Thanks to its extremely compact design, this chip tuning box can be installed directly beneath the engine cover, for example. This makes installation incredibly easier, while also providing the perfect protection from prying eyes.
No configuration necessary
Engine tuning is the manufacturer's responsibility – not the customer's! You therefore receive your micro chip tuning box pre-programmed with a vehicle-specific engine map. Absolutely no configuration work required!
Up to 20% more power and torque
You receive a performance increase developed by automobile engineers. Up to 20% more power and torque are now possible, without exceeding the component load limits. We are pleased to confirm this to you with our extended warranty on the engine, gearbox and differential. Only applies to vehicles registered in Germany. To take advantage of our free warranty, you will need to supply a garage's proof of installation.
Up to 15% better fuel consumption
Significantly greater power for lower revs, along with improved efficiency, reduce fuel consumption by up to 15%. Tuning pays off!
OEM quality from Germany
This micro chip tuning box is solely developed and manufactured in Germany. The microprocessor-controlled electronics are moulded in a waterproof, shock-resistant epoxy resin casing. Our connectors are waterproof in compliance with IP 68. All components are temperature-resistant to a range of at least -40°C to +125°C.
Suitable for all vehicles
The micro chip tuning box is suitable for all the listed vehicles, including four-wheel drive, those with a diesel particulate filter and with manual, DSG or automatic transmission. At the same time, the standard engine protection functions remain unaffected.
Easy installation with connectors
Precise connectors in OEM quality enable even laypeople to install it in just a few minutes. As a result, increased performance can be retrofitted at any time, without leaving a trace. You receive illustrated installation instructions for your engine.
Should you have questions about installation, we would be pleased to help.
How is the

extra performance
possible?
By utilising the manufacturer's tolerances, this tuning system enables performance and torque increases of up to 20%!
The micro chip tuning controllers monitor the fuel sensor or boost pressure sensor's output signal, then, depending on the engine map, feed it modified or unmodified to the engine control unit. In the required load or speed ranges, it is then possible to drive with greater fuel pressure or boost pressure, in order to increase engine power. The result is increased performance that represents the ideal mix of driving pleasure, engine durability and compliance with legal regulations on emissions.
Our performance increases are developed on one of the most modern vertex roller all-wheel dynamometers:
ISO speed axle synchronisation
Eddy brake(s): 2 x 400 kW
Max measurable engine power: 941 kW/1280 PS
Max wheel power: 800 kW/1088 PS
Max speed: 300 km/h sustained, 350 km/h short-term
Max measurement error < 0.1%
Fan power: 80,000 m³/h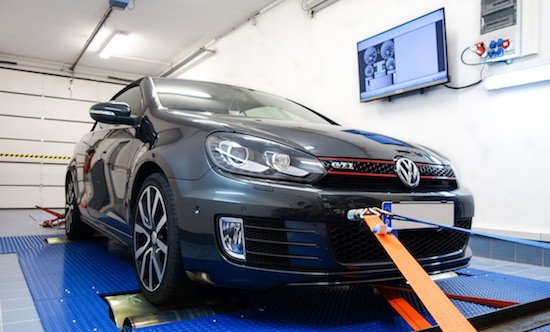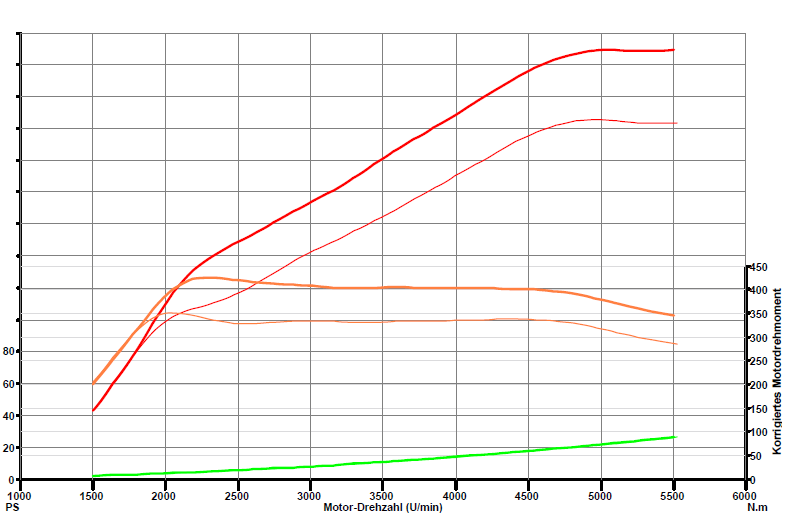 ---
Included: 12-month engine warranty
Our micro chip tuning box comes to you with our extended warranty on the engine, gearbox and differential. We offer you this extra protection completely free of charge.
We vouch for our product's quality by extending consumers' legal rights and offering a product warranty that also covers damage to the engine, gearbox and differential.
Download the warranty terms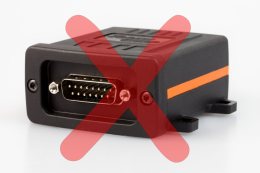 Highest reliability thanks to protection class IP68
Customers in the automobile industry require protection class IP65. But because our products are also used in lorries, agricultural vehicles and construction vehicles, we go one step further and manufacture all our products to comply with the virtually highest protection class IP68 (protection against dust entering and continuous submersion).
What you receive from us is not a computer connector, for example. These are not intended for use in motor vehicles.
---
Lower consumption
More power, lower consumption
Installing the micro chip tuning control unit also improves your engine's efficiency. At the same time, this means lower fuel consumption. What's more, the additional torque gives your engine more power, especially at lower revs.
This increased performance means you can therefore drive in a higher gear with low revs. This works in vehicles with manual transmission or automatic transmission.
The combination of improved efficiency and lower revs reduces consumption by up to 15%.
Increasing performance therefore quickly pays for itself.